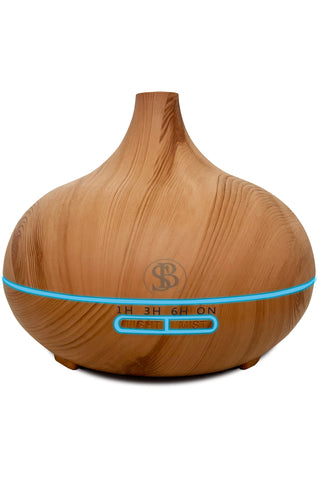 Aromatics Diffuser Supplies Store in Miami, FL
Welcome to the ultimate destination for Aromatics Diffuser supplies in Miami, FL! Our store takes pride in offering the finest selection of diffusers that will elevate your space into a realm of tranquility and relaxation. Step into our store and immerse yourself in a world of aromatic bliss. We offer a range of diffusers, each with its unique features and capabilities.
Experience the enchantment of soft, soothing mist infused with your favorite essential oils. Our diffusers feature seven color LED lights, allowing you to set the mood according to your desires. Whether you seek relaxation, rejuvenation, or a peaceful ambiance, our diffusers create an atmosphere that nourishes the mind, body, and soul.
Let us help you on a sensory journey with our remarkable Aromatics Diffuser supplies. Transform your space into an oasis of tranquility and indulge in the beauty of aroma and serenity.
Reviews
"The diffuser I purchased has a sleek design, and the mist it produces is incredibly fine and long-lasting. I love how I can customize the LED lights. It's a must-have for anyone looking to create a soothing and aromatic environment."
Lisa Ramirez
"The moment I turn it on, it fills my entire space with a gentle mist and a delightful fragrance. The large capacity is perfect for continuous diffusion, and the four timer settings allow me to customize the duration. Plus, the remote controller makes it super convenient to operate. Thank you, SoBe Candle!"
Michael Anderson
"As a holistic therapist, I rely on high-quality diffusers for my practice. The Aromatics Diffuser I purchased exceeded my expectations. It not only looks elegant but also delivers a consistent and powerful mist. The seven color LED lights add a touch of ambiance to my therapy room, creating a serene and inviting atmosphere for my clients."
Emily Collins
FAQs
Aromatics diffusers typically use ultrasonic technology to break down water and essential oils into a fine mist, which is then dispersed into the air, filling the space with fragrance.
Most aromatics diffusers are compatible with a wide range of essential oils. However, it's important to check the manufacturer's recommendations to ensure compatibility and proper usage.
The duration of the mist depends on the diffuser's capacity and settings. On average, diffusers can run continuously for 4-8 hours before requiring a refill.
Yes, you can use an aromatics diffuser as a humidifier by adding water without essential oils. It will disperse a fine mist, helping to increase the humidity in the room.
The recommended amount of essential oil varies based on the diffuser's capacity. As a general guideline, start with 3-5 drops of essential oil per 100ml of water and adjust to your preference.
Aromatics diffusers are generally safe when used as directed. However, it's advisable to keep diffusers out of reach of children and pets and ensure proper ventilation in the room.
Most aromatics diffusers are designed to operate quietly. The ultrasonic technology used in these devices ensures minimal noise during operation.
It's best to use essential oils specifically designed for aromatics diffusers. Fragrance oils may not be suitable or compatible with the diffuser's technology.
To maximize the lifespan of your aromatics diffuser, follow the manufacturer's instructions for usage, cleaning, and maintenance. Use high-quality essential oils, avoid using oils known to cause residue buildup, and clean the diffuser regularly.