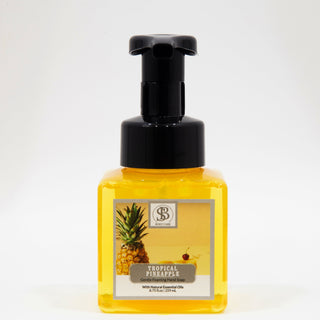 Foaming Hand Wash Soap Supplies in Miami, FL
Welcome to the premier destination for foaming hand wash soap supplies in Miami, FL! Our store is dedicated to providing you with a wide range of high-quality foaming hand wash soaps that elevate your hand hygiene routine to new heights. 
We understand the importance of clean and soft hands, which is why we curate a collection of foaming hand wash soaps made with care. Our products are formulated with natural essential oils, ensuring a gentle yet effective cleansing experience. 
Indulge in the luxury of our foaming hand wash soaps as they transform into a rich, velvety lather that envelops your hands. With each wash, our soaps leave your skin feeling irresistibly soft, clean, and delicately scented. 
We prioritize quality, offering a variety of fragrances to suit your personal preference. Whether you desire a refreshing citrus burst, a soothing floral scent, or a calming herbal aroma, we have the perfect foaming hand wash soap to enhance your handwashing experience. 
Visit our online store, and discover the transformative power of our foaming hand wash soap supplies. Elevate your hand hygiene routine to a luxurious and refreshing level with our exceptional products.
Reviews
"I absolutely adore the foaming hand wash from this store. The scents are divine, and they leave my hands feeling incredibly soft and clean. The essential oil used in the soap add an extra touch of indulgence. Highly recommended!"
Jessica Ramirez
"Ever since I started using hand wash soap from SoBe Candle, I've noticed a significant improvement in the texture of my hands. The scents are refreshing and not overpowering, and the foaming formula ensures a thorough cleanse. I appreciate the use of natural essential oils, as they leave my hands feeling nourished and lightly scented. These soaps have become a staple in my household!"
David Thompson
"I am in love with this hand wash product. Not only it effectively cleans my hands, but it also smells incredible. The fragrance is unique and uplifting, and it lingers on my skin for a while after washing. I appreciate that this soap is made with natural essential oil, as it gives me peace of mind knowing that I'm using a quality product. I can't recommend it enough!"
Emily Johnson
FAQs
Foaming hand wash soap is a type of liquid soap that dispenses as a foam, providing a rich lather for effective cleansing.
Foaming hand wash soap differs from regular liquid soap in its dispensing mechanism and consistency. Foaming soap is aerated with air, resulting in a lighter texture and foam formation when dispensed.
Some foaming hand wash soap dispensers are designed for refilling, while others are single-use. Check the manufacturer's instructions or packaging to determine if your dispenser is refillable.
Foaming hand wash soaps are generally suitable for sensitive skin. However, individuals with specific sensitivities or allergies should check the product's ingredients or consult with a dermatologist.
Yes, foaming hand wash soaps come in a variety of fragrances to suit different preferences. From cherry blossom and vanilla jasmin scents to eucalyptus mint and lavender breeze, there are options to please everyone.
Foaming hand wash soaps that contain moisturizing ingredients can help hydrate and nourish dry or cracked skin. Look for options with added emollients, such as shea butter or glycerin.
Foaming hand wash soaps are generally safe for children to use. However, adult supervision and guidance are recommended, especially for young children, to ensure proper usage and prevent ingestion.
Foaming hand wash soap is primarily formulated for handwashing and may not provide the same benefits as a body wash. It is best to use products specifically designed for body cleansing.